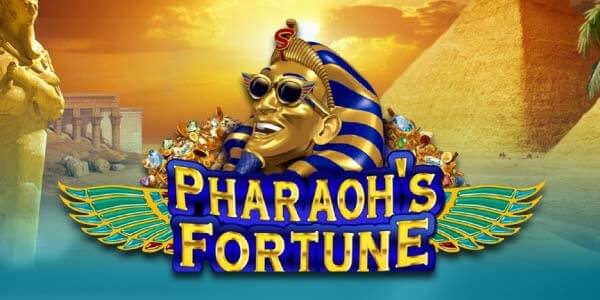 Pharaohs fortune online slot machine – adventures of ancient Egypt
Ancient Egypt was a kingdom in Northern Africa in the past, where the old Egypts lived among the coasts of the Nile River approximately 5.000 years ago. The rulers of ancient Egypt had almost godlike status. They were named Pharaohs and had big wealth hidden in the pyramids of Egypt. These riches, are exactly what you are hunting together with the casino game developer IGT, in this fantastic slot machine Pharaoh's Fortune. You are getting an authentic and good looking slot machine, that sticks to the theme al the way through. The background music comes from the immortal hit "Walking like an Egyptian" by The Bangles. Containing symbols, sunglasses and big smiles you will see Egypt as you have never seen it before.
With chances of up to 30 free spins with 6x multipliers and classic scatter symbols that multiply your winnings up to 50x there is a good chance you will succeed sneaking past Pharaoh's traps and getting your part of the golden coins, you see hiding in the background. Join this treasure hunt, with unique antique paintings, and cool rock music in ancient Egypt.
Pharaohs Fortune slot machine can be played both from mobile, tablet and desktop.
How to play Pharaohs Fortune
A cool journey full of speed and excitement, you are about to take on. A nice cloning sound will be played, as the beautiful symbols land at the reels, and the music consists of the 80's hit "Walking like an Egyptian". It all feels very authentic because in between the different features of the game, you will be joined by happy, dancing people, ready to party. In the back, you also see a golden wall, and anything in the nice design of the game reflects the pre-historic theme of the game.
In the ancient Egypt, it was common believes that artistic paintings were able to keep flooding away, so all symbols in the game are designed like antique paintings. There is an owl, a dog, a happy worm with a ball on the head and a gigantic eye. These symbols pay 100 coins at full amount of 5. There is also the more valuable symbols, like a painting with wings, to faces and a woman with a blue dress, a horse with a wagon, and a man worshipping the sun. These symbols pay 200-1000 coins at full amount.
The slot machine has 15 pay outlines during the main game, and in the bonus round the number increases to 20. You get all the classic 5-reel and 3 rows to play at. The coin value can be set from 0.10-30 and the bet amounts are both high and low. Making sure there's something for any taste and temper.
Wild:
The pyramid is your wild-symbol. It replaces all of the other symbols except for the scatter and free spins. The pyramid is the most valuable symbols of the game, and it pays 10.000 coins at max amount.
Scatter:
The game has a classic scatter-symbol. This means that you will always get a multiplier during free spins, that depends on how much you bet. 2x for 2 symbols, 5x for 3, 20x for 4 and a whole 50x for 5. Meaning you can actually go very far for small amounts of money.
Free spins bonuses:
To activate the free spins, you will have to collect 3 or more of Pharaoh's heads on an active payout line. You have secured 3 free spins and 1x multiplier at the beginning. Afterwards, you are being drawn into a magical hall, getting 30 different stones, you will have to push to get even more free spins, and higher multipliers. Behind 3-4 of the stones, there is a text "begin bonus". It ends the bonus and your total free spins are now added together and will begin spinning. You can get up to 30 free spins with 6x your winnings if you are in luck. During the bonus round the 20 lines are activated instead of the normal 15. And in the magical bonus of Pharaoh, you have secured winnings on every spin. If you don't manage to get any winnings from your spins, the bet is paid out 3x. Think 30 free spins with winnings on each one of them. That's the kinda gold treasure we have been looking for!
Do other players like Pharaohs Fortune slot machine?
In the online casino community, we often see people hunting down
daily free spins and bonuses
. Because of the nice bonus features of Pharaohs Fortune, we see it being mentioned at lot out there. It must be one of the more underestimated, but still very popular
slot machines online in the UK casinos.
What we also see, is many people comparing it to Mega Moolah Isis. A machine based upon the same theme, where you also have the chance of a unique slot machine jackpot. Actually in the total amount of millions.  At the same time, you can chase the30 free spins, the machine also are offering.