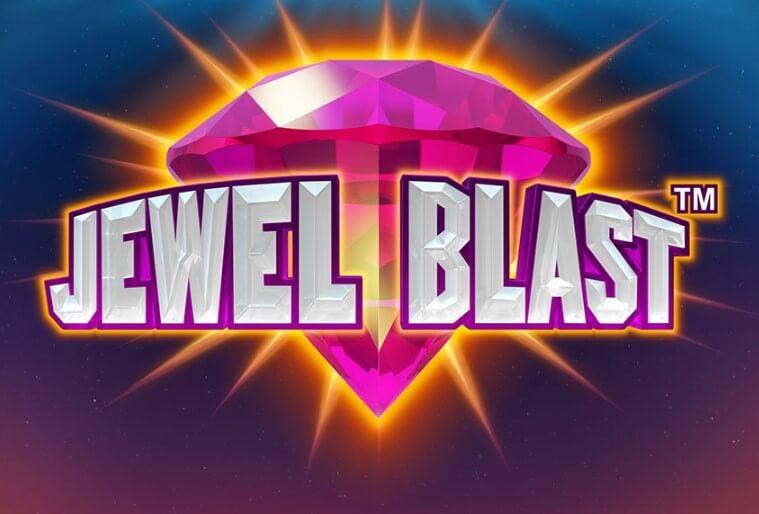 Jewel Blast – hit the precious gems and win big!
Are you crazy about shiny gems and diamonds? Then simply don't miss this casino game from game maker Quickspin. This is where it rains from the sky, with both, and they all fall straight into your arms. This is not the first time we have seen Quickspin come out with a super nice and entertaining slot machine, but we will venture the claim that it has been a very long time since the market has seen a machine that stands out so much from the crowd in terms of both graphics, sound, features, and great rewards. With bonus wild that can also activate blast bonus, now is the time to embark on a truly unique journey, full of excitement and huge rewards.
The background music in the game is just as complete as the rest, and you can really hear that every detail is thought of here. Fortunately, a nice and quite spacey soundtrack is often interrupted by great sound effects when bonus symbols and big winnings hit the wheels, so it is just getting off on a winnings hunt.
Jewels Blast Slot Machine can be played on desktop, tablet and in the mobile.
How to Play Jewel Blast
The background of this slot machine is as dazzling as its winnings. With a colourful theme, this machine stands in a room, with a look at windows, and striped walls. The machine's name is in a near-transparent blue, at the top of the machine. The game's symbols in the form of the many gems are of brilliantly graphic quality. This simple yet effective setup makes it a real pleasure to chase the big rewards here. The symbols to hit are gems in red, orange, green, and blue, and then the classic A, K, Q, J, 10, and 9. These symbols will pay you between 1.50-15 x the stake at full count (5)
The machine has 5 reels, 3 rows and 25 pay lines, with bets per spin of between £ 2.50-850, so everyone can join.
Blast Bonus:
This is the whole focal point of the game and it is part of the main game, rather than a separate bonus, making it much easier to get to the big winnings. The feature is triggered by hitting 2 or more of the bonus wild symbols anywhere on the reels. After the winnings are counted, these bonus wilds and all the symbols around them will burst into the air to make room for new symbols. If bonus wilds fall into this spin again, the blast will happen again and this will continue until some bonus symbols are no longer displayed on the reels. It is truly a well-paying feature that you will soon love.
Did you like the Jewel Blast slot machine?
It sounds good! Because if you liked this game, we would also recommend you try Flux, from game maker Thunderkick. There are also precious stones here, and this time in beautiful geometric shapes. They are also in this game to pay out winnings, of the very big kind, because with a mega fat bonus game, with a whole 3 choices, you can really score the box.